Let's Revisit All Those Times Trump Surrogates Said You Can't Elect Someone Under FBI Investigation
---
CH Response time: 0.00012707710266113
Total Response time: 0.10553193092346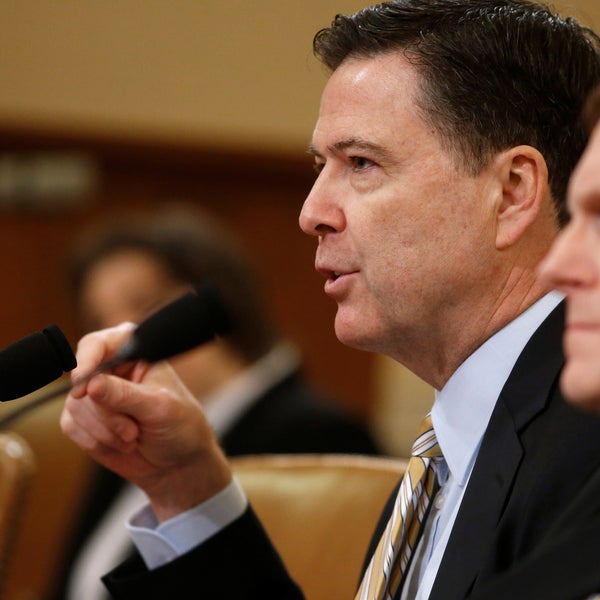 And so it came to pass on Monday, during the
House intelligence committee
's hearings, that
FBI director
James Comey confirmed
the veracity of the most-speculated-upon rumor in
Washington
: The agency is ― as numerous anonymous insiders have insisted to the press over the past few months ― investigating Russian-led efforts to "interfere with the 2016 presidential election." And what's more, this probe "includes investigating the nature of any links between individuals associated with the
Trump
campaign and the Russian government, and whether there was any coordination between the campaign and
Russia
's efforts."
Obviously, the mere existence of an investigation hardly proves something nefarious happened, and many Democratic officials have warned it would be unwise to presume a massive scandal is waiting in the wings to swoop in and capture the imagination. As Buzzfeed's Ali Watkins reported last week, Democrats on the Senate intelligence committee are concerned about "wildly inflated" presumptions concerning what might be uncovered, and have attempted to lower expectations about "evidence of active, informed collusion between the Trump campaign and known Russian intelligence operatives" coming to light.
Nevertheless, we have a president under FBI investigation. How do you like that?
You know, not for nothing, but back in my day (2016) there was a lot of consensus opinion-having that merely being the subject of an FBI probe was a disqualification for serving as the leader of the free world.
Yep, if my dusty memories serve as any guide, then that was, at one point, a whole big thing that lots of people believed. And they especially believed it about then-presidential candidate and former Secretary of State Hillary Clinton.
People such as presidential candidates! Here's old Jeb Bush, giving "Fox & Friends" his considered opinion on the matter: "All I'm saying is that she's under investigation by the FBI. Just pause and think about that. That's not, that's a pretty uncommon thing for a presidential candidate. And each and every week it just seems like there's more information."Just pause and think about Marco Rubio, talking to voters about what separated the Republican presidential candidates from their Democratic cohorts:
RUBIO: Now look, I'm not here to badmouth the other Republicans, we have a good group of people running. At a minimum I can say this: None of them is a socialist. None of our candidates is under FBI investigation.
Lest you think Rubio was treating the matter as a mere laugh line, it really was something he wanted people to think about seriously.
RUBIO: Obviously, we all understand the importance of this presidential race. I would just ask everybody this: Can this country afford to have a president under investigation by the FBI? Think of the trauma that would do to this country.
Oh, man. Marco Rubio must be pretty traumatized right now.
Presidential candidate and improv comedian Mike Huckabee had thoughts of his own, way back when:
TV news devotes 4x more time to Trump controversies than Hillary's. Gee, you'd think the guy was under an FBI investigation!— Gov. Mike Huckabee (@GovMikeHuckabee) June 20, 2016
Hopefully the coverage ratio is now more to his liking.
Meanwhile, you just know that the people in Donald Trump's inner circle had some thoughts on the matter!
Running for #POTUS with an FBI investigation. Who else could run for #POTUS w/ such a scandal? Nobody. https://t.co/p1Vh9cQezs— Dan Scavino Jr. (@DanScavino) October 14, 2015
@AriMelber not if @HillaryClinton becomes nominee - probably tough to get excited aboutt someone under FBI investigation— Sean Spicer (@seanspicer) February 20, 2016
#Hillary made history today:we've not nominated someone under FBI investigation whom a majority of Americans says not trustworthy not honest— Kellyanne Conway (@KellyannePolls) June 7, 2016
Most honest people I know are not under FBI investigation, let alone two. https://t.co/UcSmSA5aTj— Kellyanne Conway (@KellyannePolls) October 29, 2016
Dem voters forced to make an impossible choice between 1 candidate facing FBI investigation & another that's a self-proclaimed socialist— Reince Priebus (@Reince) February 28, 2016
That last tweet jogs a memory loose. When the FBI announced, late in the campaign, that it was "reopening" the investigation into Clinton's email server, then-RNC Chair Reince Priebus was very precise: "This alone should be disqualifying for anyone seeking the presidency, a job that is supposed to begin each morning with a top secret intelligence briefing." As Trump's White House chief of staff, he must be thinking back over all the intelligence briefings that have transpired, and feeling kind of queasy about them.
Welly well, what's Paul Ryan going to do about this? If history is any guide, he is going to immediately send a letter to the director of national intelligence, asking for Trump's access to classified information to be shut down until we figure out what's going on.
BREAKING: I formally asked the Director of National Intelligence to deny Sec. Clinton access to classified info. pic.twitter.com/Kk8t00cdJn— Paul Ryan (@SpeakerRyan) July 7, 2016
He can just copy and paste from the letter he sent to DNI James Clapper: "It would send the wrong signal to all those charged with safeguarding our nation's secrets if you choose to provide her access to this information despite the FBI's findings ... I firmly believe this is necessary to reassure the public that our nation's secrets are secure."
Better safe than sorry!
Unless nobody cited above actually meant any of this, that is.
~~~~~
Jason Linkins edits "Eat The Press" for The Huffington Post and co-hosts the HuffPost Politics podcast "So, That Happened." Subscribe here, and listen to the latest episode below.  
Sign up for the HuffPost Must Reads newsletter. Each Sunday, we will bring you the best original reporting, long form writing and breaking news from The Huffington Post and around the web, plus behind-the-scenes looks at how it's all made. Click here to sign up!