4 In 10 Americans Say There's Nothing Trump Can Do To Change Their Minds About Him
---
CH Response time: 0.00039291381835938
Total Response time: 0.24115705490112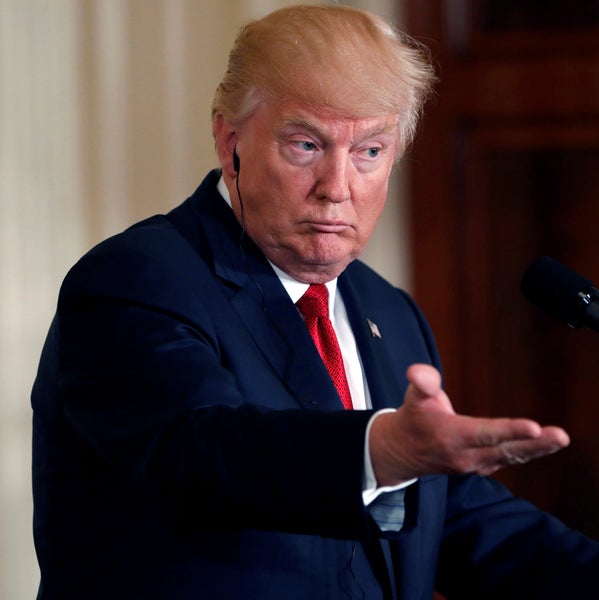 Four in 10 Americans say there's almost nothing President
Donald Trump
could do to change their minds about him, a
new HuffPost/YouGov survey
shows, with Trump's opponents especially staunch in their beliefs.
The poll finds that 41 percent of respondents approve of Trump and 48 percent disapprove. That's similar to HuffPost Pollster's aggregate, which gives Trump an average 44 percent approval rating and an average 51 percent disapproval rating as of Thursday afternoon.
The HuffPost/YouGov survey also asks respondents whether they think there is something Trump can do during his tenure to change their minds about him, regardless of how they feel now.
Sixty-three percent of Americans who currently disapprove of Trump say there's almost nothing the president can do to win their approval. Conversely, a relatively modest 24 percent of Americans who currently approve of Trump say there's almost nothing he could do to lose their approval.
That adds up to a combined 40 percent of the population saying that at just over four months into Trump's presidency, there's little he can do to change their minds about his performance ― 10 percent because they'll never stop liking him, and 30 percent because they'll never start.People aren't impeccable at predicting their future actions, and telling a pollster they'll never feel a certain way doesn't guarantee they won't.  
But the results give some idea as to how much his approval rating could continue to fluctuate in coming years.
Although Trump took office with a modest surplus of goodwill, his ratings reached an especially low ebb in the aftermath of Republicans' failed health care bill. Trump's approval rating has remained between 41 and 45 percent in Pollster's average.
Among Americans who disapprove of Trump overall, 64 percent say Trump hasn't done anything they approve of, according to the HuffPost/YouGov survey, while just 24 percent say that he's earned their approval for some actions.
Fifty-one percent of Americans who currently approve of Trump say he's done nothing so far to earn their disapproval, with 31 percent saying he's done at least something they disapprove of.
Use the widget below to further explore the results of HuffPost/YouGov's survey, using the menu at the top to select survey questions and the buttons at the bottom to filter the data by subgroups:The HuffPost/YouGov poll consisted of 1,000 completed interviews conducted April 17-18 among U.S. adults, using a sample selected from YouGov's opt-in online panel to match the demographics and other characteristics of the adult U.S. population.
The Huffington Post has teamed up with YouGov to conduct daily opinion polls.You can learn more about this project and take part in YouGov's nationally representative opinion polling. Data from all HuffPost/YouGov polls can be found here. More details on the polls' methodology are available here.
Most surveys report a margin of error that represents some, but not all, potential survey errors. YouGov's reports include a model-based margin of error, which rests on a specific set of statistical assumptions about the selected sample, rather than the standard methodology for random probability sampling. If these assumptions are wrong, the model-based margin of error may also be inaccurate. Click here for a more detailed explanation of the model-based margin of error.