White House Correspondents Head Tells Which Reporter Trump Wanted Him To Condemn
---
CH Response time: 0.00010490417480469
Total Response time: 0.1538999080658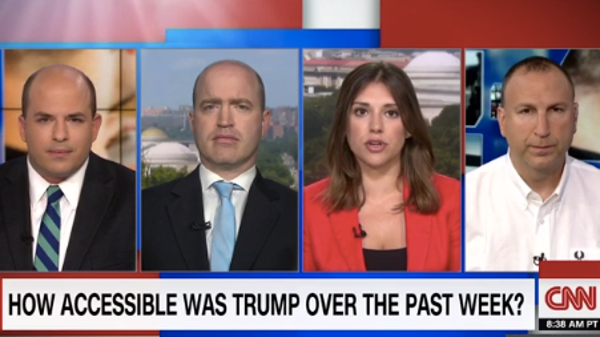 The president of the White House Correspondents' Association has revealed which reporter President
Donald Trump
's administration wanted him to publicly criticize.
During an appearance on CNN's "Reliable Sources" on Sunday, WHCA president and Reuters reporter Jeff Mason told host Brian Stelter that the journalist was Politico reporter Tara Palmeri, who also serves as a CNN analyst and appeared on the show that day. 
Some news on @ReliableSources just now... @TaraPalmeri was the reporter in question https://t.co/nJurt803qd— Brian Stelter (@brianstelter) July 16, 2017
On @ReliableSources, @jeffmason1 says White House wanted #WHCA to issue statement criticizing @tarapalmeri for an article. He refused.— WHCA (@whca) July 16, 2017
Last week, Mason revealed during a WHCA town hall event that he'd refused a White House request for the group to publicly criticize one of its reporters over a specific article. At the time, Mason did not reveal the outlet or the reporter's name. 
During Sunday's episode, Palmeri defended the media's coverage of Trump.
"I think at the end of the day, we're supposed to be balanced. We shouldn't be pro-Trump or anti-Trump. We should just be all about the facts and the issues, and I think that there is a prerogative to say 'Oh, [reporters are] being anti-Trump,' ― no, we're being critical. That's our job, to be critical, regardless of who the president is.  
.@tarapalmeri: It's "our job, to be critical. Regardless of who the President is" https://t.co/NMcbKfM87e— Reliable Sources (@ReliableSources) July 16, 2017
Trump's relationship with the press continues to grow more fractious. Earlier this month, he tweeted a doctored video of him beating up a CNN logo, seemingly endorsing violence against journalists. On Sunday, he tweeted his oft-repeated claim that the press is a threat to the U.S. political system. 
With all of its phony unnamed sources & highly slanted & even fraudulent reporting, #Fake News is DISTORTING DEMOCRACY in our country!— Donald J. Trump (@realDonaldTrump) July 16, 2017