SAY IT: People Beg Trump To Clearly Denounce White Supremacy
---
CH Response time: 0.00014400482177734
Total Response time: 0.11093187332153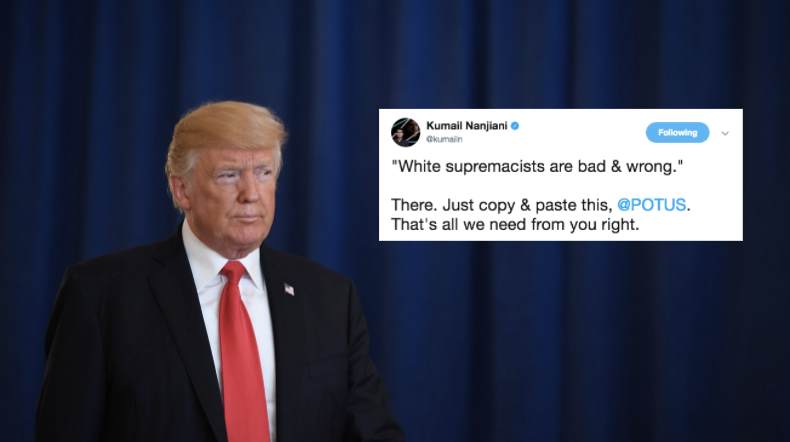 President
Donald Trump
had a chance to explicitly denounce white supremacy and racism on Saturday after violence broke out at a white nationalist rally in
Charlottesville, Virginia
, leaving
three dead
 ― one 32-year-old woman, who was struck by a car, and two state troopers, whose helicopter crashed outside the city while they were responding to the situation ― and at least 35 others injured.
But instead of specifically criticizing members of the Ku Klux Klan, the white supremacists or the neo-Nazis who brought torches and bats to the rally, Trump blamed the unrest on "many sides."
In fact, Trump commented on the fighting in Charlottesville several times on Saturday ― on Twitter and in front of the press ― but none of his remarks named the violence for what it was: a fight over white supremacy.
So people did it for him.
"White supremacists are bad & wrong."There. Just copy & paste this, @POTUS. That's all we need from you right.— Kumail Nanjiani (@kumailn) August 12, 2017
Just say the words: "Radical White Supremacist Terrorism"— Borzou Daragahi (@borzou) August 12, 2017
Say "Nazis" Donny. Say "white supremacy." Say and condemn those things. https://t.co/J6e6mLOY4V— Patton Oswalt (@pattonoswalt) August 12, 2017
Celebrities, citizens and politicians from both sides of the aisle slammed Trump for failing to condemn the obvious and dropping the ball on moral leadership.
Mr. President - we must call evil by its name. These were white supremacists and this was domestic terrorism. https://t.co/PaPNiPPAoW— Cory Gardner (@SenCoryGardner) August 12, 2017
No, Mr. President. This is a provocative effort by Neo-Nazis to foment racism and hatred and create violence. Call it out for what it is. https://t.co/WibPqkLsLa— Bernie Sanders (@SenSanders) August 12, 2017
Did Trump really say that he condemns the violence on "many sides"? The white folks with tiki torches brought the violence, own it.— deray mckesson (@deray) August 12, 2017
Trump's week✓Threatened nuclear war.✓Threatened Venezuela.✓Thanked Putin for expelling US diplomats.✓"Many sides" after neo-Nazi murder.— Brian Klaas (@brianklaas) August 12, 2017
Trump can't even say neo-Nazis are bad without both-sidesing it and he can't even do THAT without bragging about himself— Patrick Monahan (@pattymo) August 12, 2017
Presidents aren't all-powerful. They can't end racism. But their words can help or hurt. Today, Trump's words hurt: https://t.co/4DD4fv1c0j— David French (@DavidAFrench) August 12, 2017
Repeat after me, @realDonaldTrump: white supremacy is an affront to American values. #Charlottesville— Nancy Pelosi (@NancyPelosi) August 12, 2017
What a profound moral failure on the part of the President of the United States.— Steve Schmidt (@SteveSchmidtSES) August 12, 2017
While Trump failed to publicly decry violent racists on Saturday, other conservative political figures said exactly what the president would not.
The white supremacists and their bigotry do not represent our great country. All Americans should condemn this vile hatred. #Charlottesville— Jeb Bush (@JebBush) August 12, 2017
"White supremacy" crap is worst kind of racism-it's EVIL and perversion of God's truth to ever think our Creator values some above others.— Gov. Mike Huckabee (@GovMikeHuckabee) August 12, 2017
Nothing patriotic about #Nazis,the #KKK or #WhiteSupremacists It's the direct opposite of what #America seeks to be. #Charlotesville— Marco Rubio (@marcorubio) August 12, 2017
The views fueling the spectacle in Charlottesville are repugnant. Let it only serve to unite Americans against this kind of vile bigotry.— Paul Ryan (@SpeakerRyan) August 12, 2017
I urge the Department of Justice to immediately investigate and prosecute this grotesque act of domestic terrorism. pic.twitter.com/AwJLsfUEHl— Senator Ted Cruz (@SenTedCruz) August 13, 2017
Even former White House communications director Anthony Scaramucci argued that the president's remarks were ill-advised, telling ABC's "This Week" on Sunday that Trump should have been "much harsher as it relates to the white supremacists."
By Sunday, Trump aides and White House officials — while defending the president — attempted to make clear that his remarks were, at least in part, meant to denounce the extremist groups that precipitated Saturday's violence.
"When he condemned bigotry on all sides, that includes white supremacists and neo-Nazis," national security adviser H.R. McMaster said on NBC's "Meet The Press." "I think it's clear, and I know it's clear, in his mind, and ought to be clear to all Americans."
The White House later released an official statement indicating the same sentiment.
"The President said very strongly in his statement yesterday that he condemns all forms of violence, bigotry, and hatred. Of course that includes white supremacists, KKK Neo-Nazi and all extremist groups. He called for national unity and bringing all Americans together," the full statement read.
Yet, it was attributed to an unnamed spokesperson and still did not come from Trump himself.
This article has been updated with comments from Trump aides and White House officials.